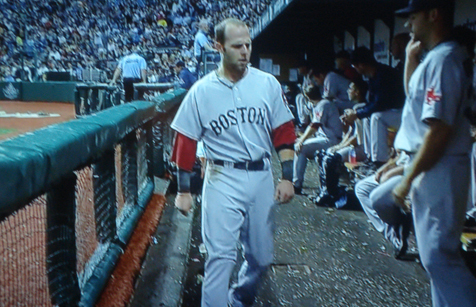 For all the bum carnage we endured through April (that 15-9 loss to the Yankees still hurts), May has been pretty damn nice to us. This team of odd parts is somehow starting to gel, we've actually attained a winning record, and we're just 3.5 games out of first in the East.
Of course, the news that The Elf might be out of commission for 3 to 4 weeks with his thumb injury is the last thing we needed to hear. As always, Chad Finn puts it all in the proper perspective:
Naturally, Pedroia is fighting to remain in the lineup, and the temptation must be there for the Red Sox to let him give it a shot. But if there is any doubt — any doubt — that he could further aggravate the injury, the choice is simple and Bobby V's words should be obvious: You're going on the DL, Pedey, and you don't have a choice. Keep that thumb elevated or whatever the docs tell you to do. See you in two weeks.
It'll be tough to keep Pedroia down. In fact, I can imagine that his "rehab" regiment going something like this:
Pedroia: Get ready to play, thumb, we're goin' in.
Thumb: Can't. Hurt.
Pedroia: F$%k you, thumb. How bout I stuff you in the toaster again to learn ya?
Thumb: Sorry. Need rest.
Pedroia: ::Grabs thumb by base of hand for maximum effect:: I got three words for you, motherf$%ker: fake metal hand. And don't think I won't go there.
I hope Elf listens to the voice of reason and sits his ass down if he must. We're gonna need that weasley bastard down the stretch if we have any playoff aspirations. In the meantime, we got Jon Lester, who has adopted the "Shakey" mantle in Wakefield's absence, going tonight.
Gotta keep moving forward, people. No place for us in .500 land. That being said, sitting at .500 might be the perfect time to place a bet on the Sox to win the World Series. Check out Sports Bet Listings to learn more about betting on baseball and which online sportsbooks are trustworthy.