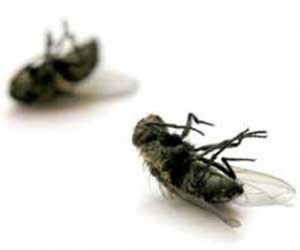 If I were the clever type, I would have Photoshopped little Beckett and Youk faces on the dead flies, but you get the point. I harken you back to Monday when I wrote the following:
And if you don't think this overuse is going to land one of them on the DL, Beckett is already planting that seed:

"It can be cumulative sometimes,'' Beckett said. "I don't think it's a big deal. But we'll see.''
And sure enough, Beckett will skip his next start. I can't believe I'm about to write these next words, but I'm starting to agree with Michael Felgar: Beckett is a fraud. He sarcastically calls Beckett "The Texas Toughguy" and what have you seen from him that you could argue? The guy is a consistently miserable personality and has not shown any toughness, mental or physical.
Youkilis is a different story but perhaps with the same ending. He has missed a significant amount of games over the past two seasons, and the "stiff back" injury is never really a quick-healing injury. It will be very interseting to see how Middlebrooks plays. Remember how Wade Boggs got his start.
Tonight, it's Bard. Gammons-willing, Valentine will take him out before he hits the 200-pitch mark.
Also: We wanted to let you know about two charity auctions being held by some friends of SG for a very worthy cause. Check the links to bid on a Sox jersey autographed by Dustin "The Elf Himself" Pedroia and tickets to the Sox-Os game on June 6.