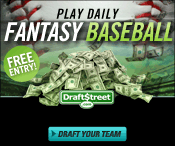 Our pals over at Draftstreet just can't stop giving money away. This Friday, May 18th, they've got 250 bucks burning a hole in their pocket and only SG fans have a shot at it. Registration is free, you stay under budget to fill your roster, and that's all there is to it…other than figuring out how to spend your money once you win. Details…
If you haven't heard yet, there's a new way to play fantasy baseball that turns the season long grind into quick one night leagues. And the best
part is that you can win cash every single day.  You draft a team for one night and get paid out as soon as the games end that night. DraftStreet.com is at the forefront of this new trend in the fantasy world and is giving us a great promotion: a FREE one-day fantasy league with $250 in prizes exclusively for Surviving Grady fans. This free contest will be salary-cap style drafting where everyone tries to assemble the best team out of the available players.
You will have a $100,000 budget to build a team of 14 players consisting of the following:
Catcher, 1B, 2B, 3B, SS, 3 OF, 2 Utility, 2 SP, 1 RP, and 1 P.
Each MLB player has been assigned a price based on their expected fantasy performance. You can adjust your roster up until the contest starts
on Friday May 18th at 7:05 ET (the 2:05 Cubs/White Sox game is not included) at which time your rosters will lock and the Live Scoreboard will be available. CLICK HERE to sign up for free and register for the Surviving Grady $250 Freeroll on DraftStreet.com.
Meanwhile, Beckett on the hill this afternoon…