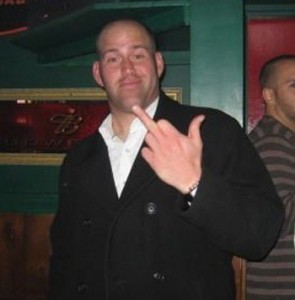 Remember that time Carney Lansford got hurt and this cocky young buck named Wade Boggs snatched his third base job and went on to the Hall of Fame? If you are buying into the Will Middlebrooks hype, the situation could very well be replaying itself 30 years later. There is a lot of speculation on whether or not the Red Sox will give the starting job back to Youkilis when he returns. Although Ben Cherington seems to think it's a lock:
"If Youk returns in a week and is ready to go, he plays third base," Cherington told CSNNE's Sean McAdam from Kansas City on Tuesday. "He's been here. It's great that Will has come up and done a good job and we like him a lot and he's a big part of our future. But Youk's on the DL and he didn't lose his job because he got hurt."
Which brings up another problem, Valentine seems to have a different opinion:
"I think it's a little premature, but we'll do exactly what's right," said Red Sox manager Bobby Valentine. "Those things usually play themselves out, but there's no need to make a decision until it's time to make a decision."
Youk DHed for Pawtucket last night and was one for three with a double. Tomorrow he'll play third and then it will be decision time. And since when is a GM involved in player position decisions? How may times during the Theo era was he asked similar questions and would always reply; "Terry Francona manages the team."
By the way, what ever happened to that Jacoby chap that used to play for us?
Finally, get over to Draftstreet and sign up for Friday's freeroll. Two-fifty large is on the line ("large is hundreds, right?). Red and I will have our teams in – believe me, you don't want to miss that!