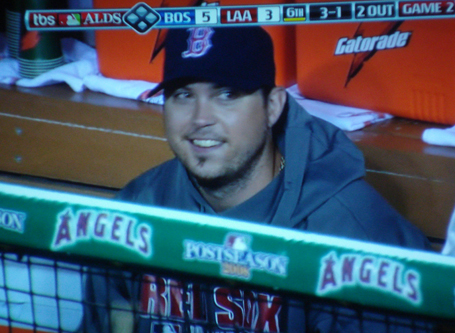 I figure Josh Beckett to be one of the more competitive guys in the Red Sox clubhouse. As in shooting a teammate in the foot for beating him at cards, taking out the loved ones of anyone who can down more PBR than him, and so on. So after Jon Lester tossed a complete game gem on Monday — and considering that of late, Josh has been about as popular with the hometown crowd as a congressman trying to outlaw thongs at Revere Beach — I wondered aloud if Beckett would respond in a similarly smashing fashion.
Last night, we got the answer. After hitting 94 on his first pitch (and it wouldn't have surprised me if he knocked the first batter on his ass for good measure), Beckett threw seven scoreless innings, striking out nine, and reminding us that when he puts his mind to it, he can still tear things up. Again, this was against the Mariners, so while I may not be ready to re-dub him Commander Kick Ass, he certainly earns Sargent-at-Arms or perhaps even something in middle management.
So now we've won five in a row, two serious question marks in our starting rotation have momentarily righted themselves and we're looking very much like a team ready to sublet the division basement to Toronto. But the real test starts tonight. Of our next 11 games, eight are against the cream of the AL East–the Rays and Orioles. Can we keep on rolling, our are we about to hit a brick wall, America's Funniest Home Videos-style? Stay tuned.