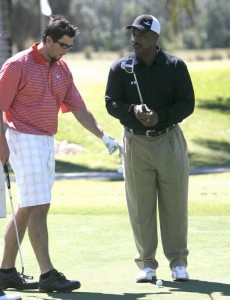 Reports are flying around that Josh Beckett played golf with Clay Buchholz last Thursday, two days before skipping his start due to lat soreness. If this turns out to be true, it's time for the Beckett era to come to an end. After last season's disappointing (and early) end, every man on this team should be out for redemption. Instead, with a few exceptions, they are playing with the same malaise that infected the team in September.
Aaron Cook pitched in Beckett's slot on Saturday, had his knee ripped open by a spike covering home, and kept pitching. Meanwhile Beckett is able to golf but not pitch? He couldn't have thrown a couple of innings during the 18-inning marathon? Does this guy care at all about his teammates?
The nonsense that continues to go on with this team just validates the fact that Terry Francona was NOT the problem. Valentine was asked about Beckett's latest escapades on WEEI's The Big Show:
"I don't know that I'm aware of it," said Valentine, who added that he intends to ask Beckett about the situation directly. "I'm aware of the story being out there. I haven't gotten to Josh about that yet. I'm trying to sort out my feelings."

"Golf is as much a part of the pitching culture as the curveball, I know that for sure," Valentine said in his radio interview. "Again, I don't know the specifics of this situation. I don't know if he was out in a charity match and just putting or if he was wailing away or if he felt that might have loosened him up. I have no idea what the situation actually is so it's hard for me to comment on it.

"If that was the case (and Beckett was driving the ball), I would say that was less than the best thing to do on the day off."
I don't know if I'm aware of it? What does that even mean? Less than the best thing to do on the day off? If this is confirmed the team should suspend him and look to get whatever they can in a trade before this guy poisons the rest of the team with his attitude. And I don't let Buchholz and his 9+ ERA and 2+ WHIP off the hook either. What was he thinking going golfing with a guy that is supposed to be hurt. This team needs a colon cleanse and it should start with Beckett. This is coming from a guy with a warehouse full of Beckett t-shirts!