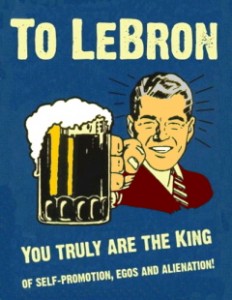 Well, LeBron and D-Wade really handed it to the Celtics Monday night. With the officials doling out technical fouls like Halloween candy (only to the Celtics of course) and LeBron taunting KG, it's time for the Celtics to rethink how they approach the rest of the series. Rondo has the right idea:
"Nothing dirty," Rondo said. "But, you know, they've got to hit the deck, too."
Translation: We'll get as dirty as we have to and at least earn the technical fouls. Game 1 was a joke. After KG was called for a technical for "delay of game" when he tipped the ball after a made basket, Heat cheerleader Mike Breen said, "it's a rule." Van Gundy replied "so is traveling and palming" as the Heat made a basket at the other end. Stephen A. Smith even had some strong comments:
"You have to understand something here," Smith said on ESPN after the Heat won 93-79, "Ray Allen is one of the classiest individuals in the world. All he did was jump up real quick and get emotional, and he turned and walked away and got a technical foul. Doc Rivers said 'Come on, Ed,' to Ed Malloy and he got a technical foul."

Smith said he had not yet called the league office, but he sees no other explanation for what went on.

"I've known a guy like Danny Crawford for years, who I believe was the one who issued that technical foul to Ray Allen. This guy is one of the elite referees in the game," Smith said. "For the life of me, I can't understand it. That makes no sense to me. Danny Crawford is a guy that's been in this game for far too long. Don't take me that this guy would just arbitrarily decide, 'I'm going to give Ray Allen a tech for saying no and turning away.' That's got to be something that's coming from the league. It makes no sense to me."
Officiating aside, the Celtics need to strap 'em on tonight. As much as I hate Wade and James, they are great players who only get better as they get easy baskets. Expect them to have to pay for every step in the paint tonight. And don't be surprised to see a Heat player or two go down hard. I won't predict a Celtics win, but I will predict a close, physical game.