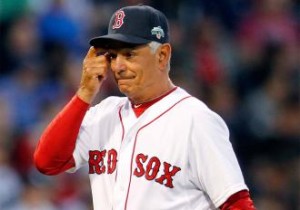 I don't even know where to begin. Is it really too much to ask to beat the Royals twice in a row? They've only won two games at home for f@*k's sake.
Apparently so, as the Sox just coughed up a would-be win in the bottom of the eighth. I guess if they don't put up double-digits on offense, every game is in jeopardy. I have to throw this out there: should Bard have come out in the eighth? He gave up back-to-back hits in the seventh, got an out on a sacrifice bunt, then got an out at the plate in a squeeze attempt before striking out Brayan Pena. Has Valentine ever taken a starter out before he gets in a jam (as Bard did to start the eighth)?
And completely off-topic, if I hear that crappy fake Shrek sound-alike douche-bag telling me to feed my lawn one more time, I will embark on a multi-state killing spree.