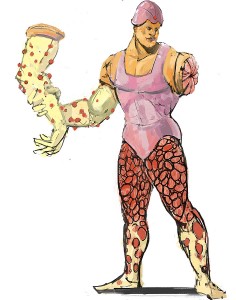 How long before the above picture is an artist's rendering of one of the Red Sox pitchers? The last two games represented the first time since 1998 that back-to-back starters have thrown over 120 pitches. In the over-coddled world of starting pitchers, especially in April, I see some DL stints for Red Sox pitching.
Beckett's 126 pitches yesterday tied his career high, a mark he set when he was eight years younger. Lester's 122 pitches the night before was just four tosses shy of his career high. See the problem? Bobby Valentine has shown reckless abandon in letting his pitchers go…and go and go.
In Lester's case, a 1-0 duel, you can almost justify leaving Lester in. He had two outs with the tying run on in the seventh. In Beckett's game, leaving him in made no sense. The Sox were already trailing and were not producing runs. Beckett was out of gas and still was left in to load the bases.
And if you don't think this overuse is going to land one of them on the DL, Beckett is already planting that seed:
"It can be cumulative sometimes,'' Beckett said. "I don't think it's a big deal. But we'll see.''
A little ominous, right? I understand the bullpen has been, uh, less than stellar, but does anyone want to see the starters we have go down? I don't want to see Buchholz throwing 120 pitches tonight.