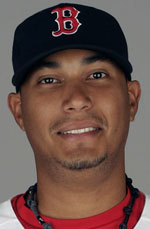 He may look like the goofy sidekick in some low-budget teen comedy, but Felix Doubront pitched his ass off for the Red Sox tonight. After a catastrophic opening series in Detroit, the Sox are searching for bright spots anywhere they can find them. I think they found one in Doubront. He only went five innings and it took him 101 pitches to get there, but he kept the Sox in the game and with their line-up, that's good enough for me. Doubront gave up two runs on four hits and three walks while striking out six. If you watched the game, you might agree that Doubront wasn't exactly getting any breaks from the home plate umpire.
Another good sign was the long relief appearance by Scott Atchison. Three innings and just one hit, keeping the Sox in the game and giving the offense a chance to tie the game up in the ninth. Pedroia continues to be Pedroia; a home run and a double (on a ridiculous face-high pitch), he scored two runs to tie this one up. Ortiz and Ross walked, Darnell was put in to run for Papi, and Sweeney came up with a big base hit to score McDonald (thanks in part to a horrible throw to the plate). Ross scored on a wild pitch from the Jays' closer Santos (who may be looking to battle Aceves for the honor of crappiest closer in the AL) to add an insurance run.
That set up save attempt number four for the Sox, a situation that has seemingly been scripted by Irwin Allen this season. The Infinity Man came in and got Lawrie to ground out, finally allowing statisticians to calculate his ERA. He blew away Thames for the second out. Arencibia grounded out to end the game and give Aceves his first save and the Sox their first win under Bobby Valentine.
When you're 0-3 and losing ugly, any win is a big win. You have to feel good about not only the Red Sox ability to come from behind, but the heart they show in doing it. Once again Dustin Pedroia was the catalyst, he looks willing and able to carry this team on his back all season if that's what it takes.
Tomorrow we get the starting debut of Daniel Bard. If he puts up a Doubront-like effort, I think we'll take it. Two in a row anyone?