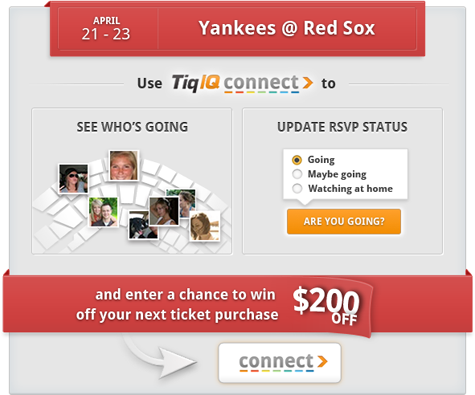 Our friends at TiqIQ have launched a new Facebook application called TiqIQ CONNECT. Unlike the majority of other widgets/applications, this one is pretty cool–not obtrusive–and useful (they promise).
Using the app, you can now check-in (in advance) to any Red Sox game letting your friends know which games you are going to and where you will be sitting… if you're planning on going… or if you're just watching from home you can also update that. TiqIQ Connect even provides a thumbnailed seat view on your wall so friends (or stalkers or crazy ex-girlfriends or Denton) can find you, or purchase a ticket near you. For those of you who dig cash, every time you RSVP to a game, you'll be entered to win $200 toward the purchase of tickets via TiqIQ.
If you're going to any of the Yankees games this weekend, you can click the links below to give it a try. TiqIQ promises not to spam you for signing up (and we'd hope you'd let us know if they ever do).
Game 1 – http://tiqiq.us/AVP
Game 2 – http://tiqiq.us/AVS
Game 3 – http://tiqiq.us/AVV