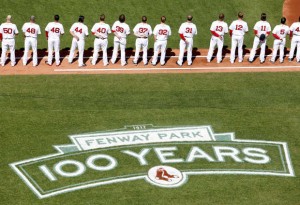 Let me preface my thoughts by saying the seats at Fenway are uncomfortable even for a skinny guy like me, I hate Sweet Caroline and anyone buying a brick has far too much disposable income.
All that being said, the 100th Anniversary celebration kicked ass. Anyone who watched that without welling up and getting misty-eyed is either not a fan or simply has no soul. Seeing the amazing 2004 team mingling with the likes of Pesky and Yaz as well as today's players was magical. And was anyone surprised to see Tim Wakefield and Jason Varitek helping out the guys in wheelchairs? Still classy after all these years.
Did anyone else get the feeling that Nomar really wishes he stayed here and could have been a bigger part of the Red Sox?
I missed Canseco but I assume he was in attendance because he heard juice was available?
I could have done without Millar giving the toast.
Now, let's really make it a party and kick some Yankee ass!