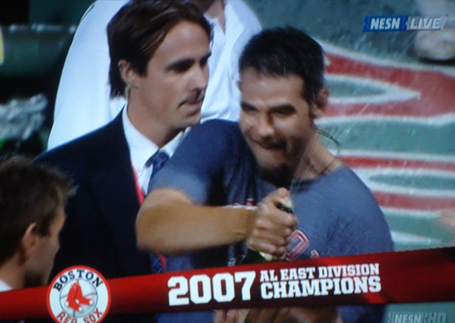 I was drinking myself silly with a couple friends last night when I reiterated something I had tweeted earlier: If Kevin Millar isn't managing the Red Sox in a couple years, nothing in my world will make sense. I'm sure if such a move was made we'd be erring on the side of motivation over strategy, but it seems like the kick in the ass this franchise needs right now, if only for just one fleeting season.
One of my pals countered with Mike Lowell, saying some team would be wise to get Scenic on the management track with a minor league assignment post haste.
And the more I thought about it, the more sense it made.
Mike is certainly one of the more genuinely respected guys who ever played the game. He's served in various player representative capacities for the Sox and Marlins, so he understands the bullshit politics behind the scenes. Another plus is his Latin American connection and ability to speak English and Spanish–something that could serve him well in mentoring up and coming recruits from outside the US.
Would he ever want to do it? Who knows. It seems a pretty thankless job for a guy who's already got more money than he'll ever spend.
It was a topic we pondered over a few more drinks. Until someone brought up this video clip of Ortiz and a positively stunning interviewer. That's around the time we lost track of our thoughts.