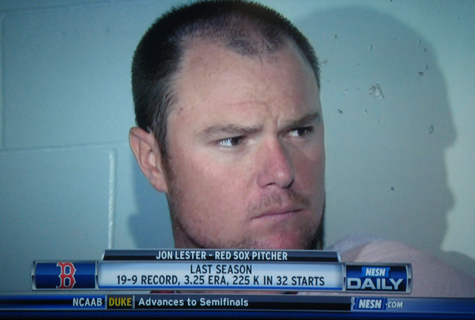 The Sox play the Jays today at 12:37pm (not 12:36 as originally stated). So those of us who are gainfully employed must now choose between watching the Sox attempt to salvage the last game of this dismal road trip or performing menial "work-related" tasks.
Can't say this season has kicked off quite the way it unfolded in my mind, but I think (and pray) that our fortunes will change once we step back on Fenway's magic grass. In the meantime, if we can slip by these weaselly bastards with a win today, it'll make the off-day that much easier.
Look, there hasn't been a lot to cheer about so far, but from a very small sample size, we've seen at least one late-game power surge in last night's three-hit, two-run ninth, some nice work from Doubront and Lester, and a fairly decent first-ever start from Daniel Bard. Does this mean that by, say, mid-May Bobby V won't be donning his fake mustache to exit Fenway Park every night? Nope. But it's way too soon to be calling for anyone's head.
Remember: Last year's team stumbled out of the gate only to become an Asskicking Machine over the summer months that weren't named "September." Viva Lester! Viva America! Viva Kickassery!