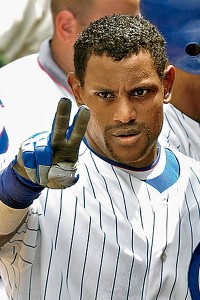 That's right, Sammy, you juice-loving fool, two in a row for the Red Sox!
Josh Beckett pitched a serviceable six innings, despite looking like he might be hitting the shower early. The real story  was the offense treating the Twins' mediocre pitching like the new guy on the cell block. It was an 18-hit shellacking where everybody in the starting line-up except for Monday's hero Cody Ross had at least one hit. Ortiz and Aviles (4-hit night) went yard and the Sox piled up 11 runs while Beckett's two earned were all the Twins could muster. Remy was back in the booth and Jenny Dell continues to look spectacular. All is well in the Nation.
Now go register for the Draftstreet/Surviving Grady Friday night freeroll!