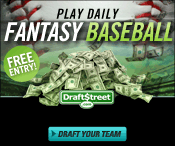 So you think you know baseball better than Red and Denton?
Here's your chance to prove it! This Friday, our pals over at Draftstreet.com are running a free Fantasy Baseball game just for Surviving Grady readers. Red and I will be entering individual teams and you will be able to track your team on-line during the games to see just how badly you are kicking our asses. Oh, and you can win some cash as well. Here are the details:
If you haven't heard yet, there's a new way to play fantasy baseball that turns the season long grind into quick one night leagues.  And the best part is that you can win cash every single day.  You draft a team for one night and get paid out as soon as the games end that night. DraftStreet.com is at the forefront of this new trend in the fantasy world and is giving us a great promotion: a FREE one-day fantasy league with $200 in prizes exclusively for Surviving Grady fans.
This free contest will be salary-cap style drafting where everyone tries to assemble the best team out of the available players. You will have a $100,000 budget to build a team of 14 players consisting of the following:
Catcher, 1B, 2B, 3B, SS, 3 OF, 2 Utility, 2 SP, 1 RP, and 1 P.
Each MLB player has been assigned a price based on their expected fantasy performance.
You can adjust your roster up until the contest starts on Friday April 27th at 7:05 ET at which time your rosters will lock and the Live Scoreboard will be available.
CLICK HERE to sign up for free and register for the Surviving Grady $200 Freeroll on DraftStreet.com.
This will be fun, don't miss your chance to win some cash and trash-talk with us. I'm thinking Carl Crawford as one of my OF slots, but I don't want to give anything else away.