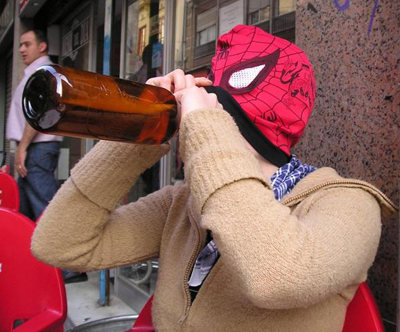 Considering that this was only the third game of the regular season, and that we were playing against the reigning AL Central champs, a team that boasts both Multiple Miggs Cabrera and Prince Fielder, I am more than willing to give the Sox a mulligan for yesterday's loss of "no way that just happened" proportions.
After gorging myself on ham and cheap beer, however, the last thing I needed to see was another glaring reminder of how difficult — if not impossible — it's going to be for the Red Sox to secure a playoff spot without a bona fide closer in the mix. Heading into the bottom of the ninth with a three run lead? That was Papelbon time, man. And even though that crazy bastard could push you to the edge of Heart Attack Reef, he usually got the job done.
Without Paps or his successor, Andrew Bailey, we're scrambling to fill holes. Right now, Aceves, so effective last year as a set-up man, has yet to record an out as a closer, and is probably responsible for a few feet through the flatscreen after letting the Tigers back into the game in the bottom of the ninth of yesterday's fiasco. Mark Melancon didn't do much better, being asked to and failing to hold a hard-fought, two-run eleventh inning lead and sending us all to the liquor cabinet.
Through it all, I could imagine Daniel Bard sitting there, feeling as helpless as Clark Kent watching Metropolis get nuked but unable to switch into his Superman cape and tights.
Again, it's only three games. In time, Aceves and Melancon may find their footing, and we may be able to stitch together an interim solution. But if a couple more games are lost in the ninth in Toronto, it may be time to put Bard's dreams of starting on ice until Bailey comes back. Sure, it introduces a whole new slew of questions, not the least of which is who replaces Bard in the rotation. But with a W on the line — and they count just as much in April as in September — I'd rather put my money on Aceves in the eighth and the guy long figured to be Pap's eventual replacement to close it out.
Oh, and here's that Holly Johnson video you ordered: