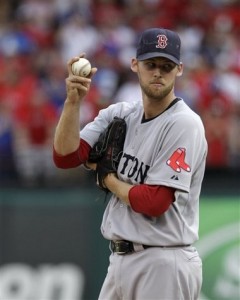 Today at 1:30, while I'm sitting here at work wishing I wasn't, Daniel Bard will take the mound for his first spring training start. I know today's outcome doesn't really mean anything in the grand scheme, but I am very interested in this transition. Bard certainly looked shaky in some pressure situations and might not have the mental make-up needed to close, but he looks to have the contraol and enough pitches to succeed as a starter. Obviously the 100mph fastball doesn't hurt.
Here's the line-up:
Ellsbury CF
Pedroia 2B
Gonzalez 1B
Lavarnway C
Ross RF
Punto DH
Hassan LF
Middlebrooks 3B
Aviles SS
Bard RHP
Don't expect Carl Crawford to be in there for the rest of spring training and probably not anytime in early April either. Bobby Valentine's "revolutionary" method of having a guy fresh off of wrist surgery take bunting practice has set Carl back a bit.
I want two clean innings from Bard, is that too much to ask?