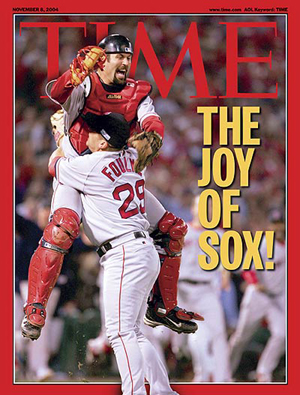 When Carlton Fisk headed to Chicago back in the '80s, the Sox made many valiant efforts to replace his unique combination of balls, talent, and "you ain't gettin' near my f$%kin' plate" machismo. After a lot of trial-and-error with the likes of Rick Cerone, John Flaherty and the immortal Damon Berryhill, the Sox finally found Fisk's heir apparent in Jason Varitek. Another testament to Cool Hand Duquette, it only cost us Heathcliff Slocumb, who was dangerously close to being taken out by a disgruntled, gun-toting fan before he was shipped off to Seattle. Hell, we even got Derek Lowe in the same fell swoop. Bonus!
Although his most recent years saw the decline in skills that you might expect from a guy nearing forty who spends four hours a day every summer in a crouching position, Tek was a beast in his heyday. He leaves with two World Series victories, four no-hitters and a legacy as the quintessential "pitcher's catcher" under his belt. He was also The Captain, a guy who seemed to embody everything that was right with the game and the universe. Tough as nails, but still the sort of big-brotherly dude who'd let you in on his porno mag stash and slip you a couple beers from the cooler when mom and dad weren't home.
Today, of course, we close the door on the Varitek Era as the big guy with the li'l voice officially retires from the game. Although I could certainly imagine Tek opening up his own dojo or leading an Expendables-type group of mercenaries to take out corrupt foreign leaders, word is he'll be offered a chance to continue his legacy somewhere within the Red Sox organization. And that just makes sense.
Thanks for the memories, Cap'n.