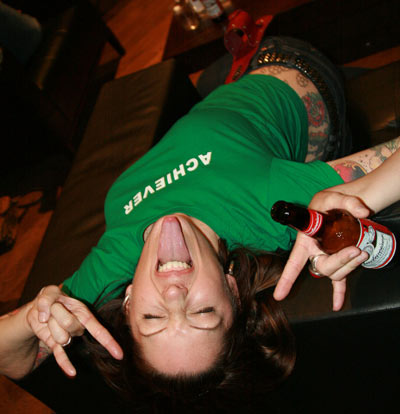 Last year at this time we were already being fitted for our World Series Champion pants. The ones with the big-ass buckle that says "Achiever!" You remember that time, don't you? Spring had barely even accepted our prom invite but in our minds she was already shagging us silly in the back of the van as it broke 100 down Storrow, leaving the Yankees and Rangers and Cardinals and hobos and politicians and Blue Oyster Cult and everyone else in our dust.
We all know how that turned out.

This year, we're not the big dog. Hell, in some circles, we're not even that quasi rat-dog thing that used to shill for Taco Bell. SI's just-released baseball preview, in fact, predicts a 91-71 finish for the Sox, in third place behind the Yanks and Rays, and just out of October contention. They also predict, in not so many words, that by roughly the All Star break, Bobby V will either be a hero in this town or found hanging by his briefs over the Mass Pike.
Last year, it was in the bag. No need to even play the games. We bought our way to the front of the line.
This year, we've got a manager who may well inspire greatness or mutiny. A reliever being fitted for a key starting role. Another year of "who's our bloody shortstop, anyway?" A kindasortaokay feeling that our new closer will be as good as our former closer. A hope that Carl Crawford can only get better. And Ryan Sweeney.
We're running with the underdogs, to be sure. And I gotta say, I like that a whole lot better.