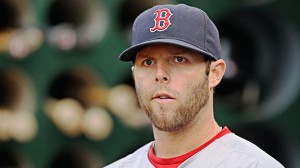 It's game on for Dustin Pedroia from the moment he arrives at camp. Props to Joe MacDonald and his "Quick Hits" segment over at ESPN for providing the gold.
Pedroia looks to be in great shape and has trimmed down a bit. It didn't take him long to hit the batting cage, but before going out he said, "Hey, media. I knew I smelled something. . . I'm jacked." 
Awesome. Nick Punto, who will compete for the chance to play beside Pedroia at shortstop seems like he might fit right in:
Punto, listed at 5-foot-9, came up with the line of the morning when asked about playing with Pedroia: 

"He's probably the first [player] that I'm taller than." 
Man, this makes me hungry for baseball.
A couple of administrative items:
I am venturing into the world of Twitter (it may be the only place I can get a word in without Red talking over me), follow me at DentonSG.
Red and I were contacted by a gentleman named Paul Kocak who is writing a book about the incredible final day of the 2011 regular season. He is looking for anyone that was at that dreadful game in Baltimore. If you were there, shoot Paul an e-mail at paulkocak@mac.com