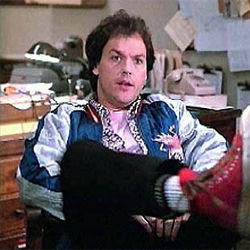 Peter Abraham's "Random Red Sox thoughts" post today is outstanding. I don't need an entire article devoted to Crawford's stance or a minute-by-minute update of Bobby Valentine's bowel movements. I need quick hits that my unfocused mind can enjoy and absorb. A few that caught my attention:
Vicente Padilla is kind of scary. If he makes the team, Valentine may need security when he goes to the mound.

Valentine has posed for more pictures than Kate Upton since he arrived at Fenway South. If you've attended a workout and haven't talked to Bobby, you aren't trying.

 The players get a snack break during workouts and are served mini granola bars and apple sauce. It's like watching a bunch of oversized day campers.

Daniel Bard is a mortal lock for a spot in the rotation, that's how sold everybody seems to be. But the No. 5 starter remains a mystery. Alfredo Aceves really wants it, but can they get away with two converted relievers in the same rotation?
And of course my favorite, since anytime you can fit a Seinfeld reference in to a baseball report, you've earned my affection:
John Henry spoke so softly the other day I was sure we were all going to have to wear puffy shirts.
Thanks Peter!