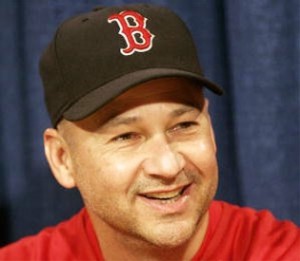 Great story today by the Herald's Michael Silverman. Reading it made me realize how much I'm going to miss Terry Francona. Whatever your opinions are on how the season ended in 2011, Tito brought Boston two more championships than I ever thought I'd see as a Sox fan, and I will never forget that. That tea-drinking son-of-a-bitch will always have a place in my heart. It was sad and disturbing to see how Francona was treated in the media, but to read how ownership treated him was much worse:
"On the flip side, I called (principal owner) John Henry seven or eight times. Never heard from him. I have not talked to John since the day I left. It makes you kind of understand where you stood.''
 That, to me, is unbelievable. Regardless of how things ended, you just don't treat people that way. And with Wakefield retiring yesterday, another link to the great 2004 team is broken. I hope Tito lands somewhere that people will appreciate him the way we, the fans, did in his time here.