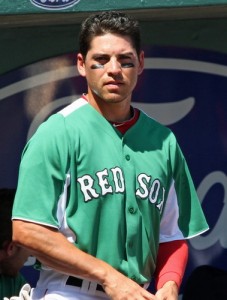 After a lost season in 2010, Jacoby Ellsbury was a wrecking machine last year. He played in 158 games, smacked 32 homeruns, drove in 105 runs and scored 119 of his own. He also swiped 39 bases and ended up with a .321 batting average. And let's not forget his defense.
Was 2011 an aberration or a sign of things to come? Dan Szymborski of ESPN thinks Ellsbury will "fall back to earth." And Gordon Edes doesn't seem to disagree. I happen to think Ellsbury was progressing towards this until the 2010 injury.
The .300 average is no surprise, Ellsbury has been doing that all throughout the minors.  The stolen bases are almost a given, and the doubles are a result of the same speed. The RBI totals are really a result of guys getting on base in front of him. The 32 homers was surprising, but not shocking. Ellsbury is an incredible athlete with a lot of strength. It really isn't a stretch for someone like him to find his swing after a few seasons in the majors, he is only 28.
Would you really be surprised to see Ellsbury put up numbers similar to last season?