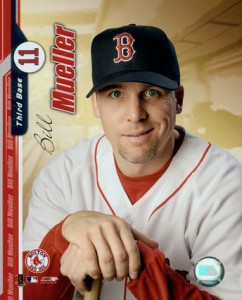 Let's face it, if any of us had a HoF vote, we'd be sending Billy Mueller to Cooperstown for what he did for us in 2004. Well, we're not the only ones. ESPN's Pedro Gomez gave him the nod last month, garnering Mueller 0.6% of the votes, just shy of the 75% needed.
My favorite memories of Bill Mueller are pretty obvious, but I'll never turn down an opportunity to talk about them.
On July 24, 2004, Mueller went 2-for-4 with a homer and 3 RBI. But this was no rdinary linescore in what certainly was no ordinary game. This was the game, in my opinion, the turning point of the 2004 season. This was the game where Jason Varitek introduced A-Rod's face to his catcher's mitt. Oh, and that home run? It was a walk-off deal in the 9th off of Mo Rivera.
Everybody remembers game four of the 2004 ALCS. The ninth inning. There was The Walk to Kevin Millar, and The Steal by Dave Roberts. Well none of that would mean jack squat if Billy Mueller hadn't singled Roberts home to tie the game. The Red Sox, of course, went on to win the game in the 12th. And once again, that piece of hitting was off one Mariano Rivera.
Just for the hell of it, raise a glass this evening to Billy Mueller. He was another valuable piece of the puzzle that made the 2004 team so great.