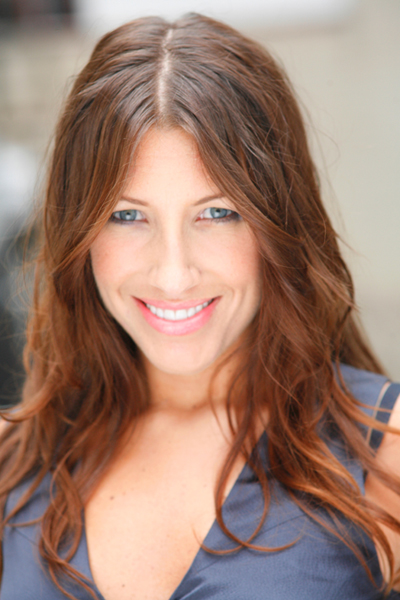 When word came down that Heidi Watney would be leaving NESN at the end of 2011, I got an email from a college buddy of mine who was based in Baltimore.
"You should start a campaign to get Jen Royle in there," he wrote. "You guys would love her in Boston."
I didn't know a lot about her, so I checked her credentials: nine years of baseball reporting experience with a focus on the AL East, including work at YES, where she won an Emmy covering the Yankees, and at MASN, where she covered the Orioles as well as the Baltimore Ravens. Then I dug up a few of her YouTube clips, including interviews with the likes of Dustin Pedroia and David Ortiz, and the MASN Orioles video blog she hosted last season.
So she was clearly good looking, knew her shit, and could handle a microphone (not a euphemism). And her Twitter account showed off her gloriously unfiltered opinions and sense of humor; she even set up an account for her bulldog for chrissakes! The icing on the cake was that she was a local girl, born and raised in and around Boston, who understands our blood-curdling passion and why we all shield out nuts when discussion turns to 1978, 1986 and 2003. Even before I learned that on top of all of this, she's BFFs with former NESN-ite Tina Cervasio, I was sold.
Of course, a funny, opinionated, Emmy-winning Boston girl working the Sox games for NESN seemed almost too good to be true. And it was. Jen didn't get the NESN gig — you might argue she was over-qualified — but now that she's returned home for good, it's safe to figure at least one of this city's many sports media outlets will be looking to lock her up. She's currently auditioning with WEEI and rumors abound that she'll be joining Comcast SportsNet in some capacity.
In the meantime, she's already spreading goodwill around the hometown, donating her time to Project Cupid's Charity Date Auction, which will be held Saturday, February 11 at Estate. This is your chance to spend an evening talking sports and knocking back brewskis with one of Boston's finest—all in the name of helping kids with cancer. That's a win-win, folks.
While in the midst of packing for her return move to Boston, Jen was kind enough to take some time to get on the phone with me to chat briefly about Project Cupid, leaving Baltimore, and the next stage of her career. Here are some of the highlights:
Red: How are you?
Jen: I'm fantastic. I'm in Baltimore right now and packing to move back to Boston.
Red: Awesome.
Jen: Actually, I lied. I'm miserable. I'm just so exhausted from all this packing. My last day of work was the day the Pats ousted the Ravens. I can't get back home fast enough.
Red: How 'bout those Ravens?
Jen: I'm a Patriots fan, but honestly, from my time covering the Ravens, I can tell you that they are the greatest 53 guys you could ever want in a locker room. Sounds cheesy, but it's true. They're so personable, and were so good to the reporters. Only ten of us covered the team on a daily basis and we were like a family. It was an amazing experience, especially since I started covering football after being primarily a baseball reporter.
Red: What was it like being a Bostonian covering the Yankees in New York? Did the fans get on your case?
Jen: Actually, it was tougher in Baltimore. I'm very opinionated, I don't have a filter, and I'm not afraid to say how I feel about something, even if it's not popular with the public. I'm always gonna stay true to what I believe. Remember when Baltimore knocked the Red Sox out at the end of last season and Robert Andino got the game winning hit? In his post-game comments he said something like, "any time I can send Boston home crying, I'll take it." Everybody in Baltimore thought it was awesome that he said that. But I was like, "Wait a minute, I don't care if I'm from Boston or Arizona or Kansas City, [Andino] needs to grow up, go to media camp and learn how to be classy." It was one of the most immature comments I heard in my career and I saw it as proof that there was no veteran leadership in that locker room. That kid didn't learn from anybody. And I got hammered for that by the fans but I didn't care.
Red: The back-and-forth between you and some Baltimore fans on Twitter is epic.
Jen: You want to hear something? Once, I told people over Twitter that I was watching The Wire and that I didn't quite get it. And I got death threats because of that. Over a TV show. Would I tell you I was going to come to your house and slay your family if you didn't like Good Will Hunting? Get a grip.
Red: That's a little over the top.
Jen: On the other hand, a few days ago I was at an outdoor bar having a drink with a friend and some guy walked by with his girlfriend and did a double take and came up to my table and I thought, "Oh, shit, here comes someone to tell me I suck or something" and he said, "are you Jen Royle?' and I said, "yes" and he said, "I just want to thank you for everything you did here and wish you the best in Boston." And I started crying. Because nobody ever takes a moment to say things like that. I gave him a hug, I gave her a hug, bought them both a beer, and it was awesome.
Red: A lot of people, including myself, figured you'd be a natural for the NESN gig.
Jen: Yes, a lot of people did, and it's nice that they did. And I know why they did—because I'm from Boston. And that's understandable. During the interview, when they asked me how I would relate to the fan base, I told them "I am the fan base." I had stories about sleeping in my Marty Barrett T-shirt for two weeks and growing up living and dying with the team. And even though I was disappointed that I didn't get it, I'm 37 and I've traveled with baseball teams and I'm not sure I really wanted to be getting back on a plane and covering a baseball team for 162 games until I'm 41.
Red: Well, it's nice that one of your first acts in returning to Boston is auctioning yourself off as a date to support Project Cupid and The Jimmy Fund.
Jen: My father died of cancer so I have a special place in my heart for any families dealing with cancer, and I can only imagine what it's like when a child is involved. I'm honored to be a part of this event and hopefully I can help raise some money and help a great cause.
Red: Like Heidi Watney, by your very involvement, you're elevating the donation potential. Always nice to see people use their celebrity for good.
Jen: I'll do anything I can to help out. I'm just thankful to have some kind of platform to be able to help people and charities like Project Cupid. If it's a small part I can do as a reporter, then I'm all for it.
Red: Well I plan on bidding, so let's see if we're compatible. What's your favorite movie?
Jen: Hmmm. Fargo.
Red: Favorite music?
Jen: Counting Crows.
Red: What types of restaurants do you like? Any favorites around the city?
Jen: F—k, I've been away for so long, I can't really name any. And sorry about that, I swear like a sailor.
Red: On my salary, it'd be like a burger and a beer.
Jen: Well, I'd inhale a burger and probably drink you under the table.
Red: Then it's love.
The Project Cupid Charity Date Auction will be on Saturday, February 11 at Estate in Boston. For more info, check the PC Facebook page. And if you can't attend but want to donate, click here.