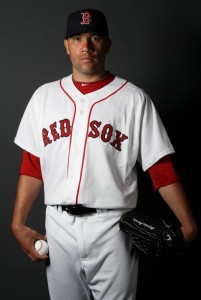 After the dust settled last October, pitching was not exactly a bright spot in the 2011 Red Sox season. One positive that did come out of it was Alfredo Aceves. Primarily a reliever, Aceves went 10-2 with a 2.61 ERA and was arguably the team's most reliable pitcher.
Aceves and the Red Sox were $700,000 apart when he filed for arbitration. They settled just about in the middle, a one-year deal worth $1.2 million and another $100,000 possible in incentives. This could be a steal for the Red Sox who plan on stretching Aceves out and possibly putting him into the rotation.
Another piece of the puzzle falls into place. Ortiz is now the only question mark as he and the Sox are negotiating between his ask of $16.5 million and their offer of $12.65 million.
And we are one day closer…