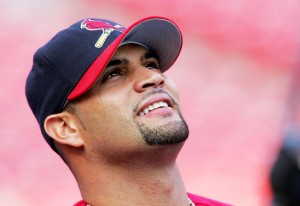 The Angels have stolen the show at the Winter Meetings. CJ Wilson signed a five-year deal worth 77.5 million dollars. He will join Jered Weaver, Dan Haren and Ervin Santana as part of a very formidable starting rotation. That alone would be big news, but the Angels checkbook runneth over this holiday season. They are now in the hole for between 250 and 260 million dollars for the services of Albert Pujols for the next ten years.
Pujols became the owner of the second-largest contract in MLB history, trailing only you-know-you. St. Louis made a strong run at making Pujols a Cardinal for life, but in the end, they were outbid, plain and simple. By the time the deal is done, Pujols will be 41 years old (assuming he does not have one of those fishy birth certificates). The move to the American League makes sense as Pujols, a first-baseman, can switch to DH toward the end of the contract.
Pujols has put up amazing stats already in his career. In his 11 seasons with the Cards, he was Rookie of the Year in 2001, an All-Star nine times, an MVP three times, a Gold Glove winner twice, and won the Silver Slugger six times. He has compiled over 2,000 hits, 445 home runs and has a career batting average of .328.
The most amazing accomplishment is recovering from a fractured wrist in two weeks. He injured the wrist in a collision on June 19th and was assumed to be out 4-6 weeks. He returned exactly 17 days later on July 6th. Some say amazing, I say suspicious. We'll see how consistent his stats are now that the league will be performing blood tests for HGH. I'd love to see someone break some records legitimately, but that recovery last season…just a little too amazing.