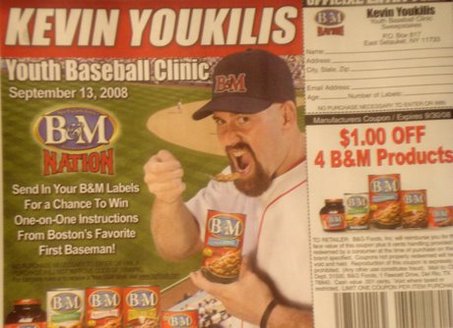 "I know that buying Christmas and Hanukkah gifts can be a bitch. So here's something that will bring a smile to the wee folks on your list: The Kevin Youkilis Playtime Lumber Yard Set.
Hours of interactive and educational fun await your kids as they experience the sheer thrill of owning and operating their own lumber yard, and discover more about the fascinating journey that wood takes from forest to palette. Along the way, they'll learn valuable lessons, too. Like how to evade bears, sheriffs and vindictive exes. And how to construct a makeshift tent out of old cigarette butts, cardboard boxes, James Blunt CDs and other carelessly discarded items. And how to tell when meat they've smoked and tenderized themselves goes bad (requires special 'meat assessment gloves,' sold seperately.)
Some of you might ask what any of these things have to do with actually running a lumber yard. To that, I say: Look, you've got less than one f#$king week left. Stop worrying about the details and focus on the more important question: What are you gonna buy your kids? A Playstation? Why not get 'em some goddam Japanese lessons while you're at it. Or you could just buy local and support your own country.
Folks, I wouldn't put my name on just any lumber yard playset. This one's a winner. So please order now. Macho, bearded operators are standing by."