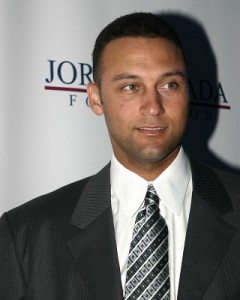 I'm the kind of guy that will take any opportunity to ridicule a Yankee. A-Rod is my favorite target, but I'll take Captain Intolerable as a close second. The New York Post is reporting that since his break-up with the amazing Minka Kelly, Jeter is "playing the field." Sounds more like Jeets needs a revolving door and a traffic cop at his bedroom.
Yankees star Derek Jeter, one of New York's most eligible hunks since his split with longtime gal pal Minka Kelly, is bedding a bevy of beauties in his Trump World Tower bachelor pad — and then coldly sending them home alone with gift baskets of autographed memorabilia.

The Yankees captain's wham-bam-thank-you-ma'am kiss-offs came to light when he mistakenly pulled the stunt twice on the same woman — forgetting she had been an earlier conquest, a pal told The Post.

"Derek has girls stay with him at his apartment in New York, and then he gets them a car to take them home the next day. Waiting in his car is a gift basket containing signed Jeter memorabilia, usually a signed baseball," the friend dished.
The fact that Jeter is able to stay disease-free is quite an accomplishment. But parting gifts for his "dates?" Why not just leave a hundred on the nightstand and call a cab? Or have one of those Wile E. Coyote-style ejection seats on the passenger side of the bed?
Boy, will Tim McCarver be devastated.