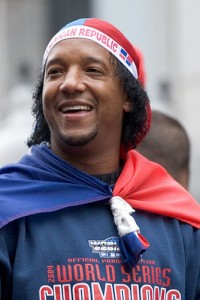 The Winter Meetings don't officially begin until tomorrow, but at the rate we are getting news out of Cap Cana, it seems like they are already underway. The coverage of David Ortiz's charity golf tournament, at least in Boston, is all about Red Sox news.
Bobby Valentine: Plans to wear number 25 in honor of Tony C. In former coaching stints, he has worn number 2 or 22 but both are taken. Valentine said he would rather see the number on the wall at Fenway than on his back.
Tim Wakefield: Wants to play another year with the Red Sox. Wake is just seven wins away from owning the record for most wins by a Red Sox. Cy Young and Roger currently share the record.
David Ortiz: He has been offered arbitration and there has been speculation that Bobby V's visit was more about getting Papi to play in Boston than to support Ortiz's foundation.
Pedro Martinez: Will be announcing his retirement. Am I the only one that would like him to try pitching one more year in a Red Sox uni?
Johnny Damon: The quote machine was there to offer unsolicited insight on pretty much everything.
The real Winter Meetings start tomorrow and the Red Sox need to plug some holes. Should be an interesting week.