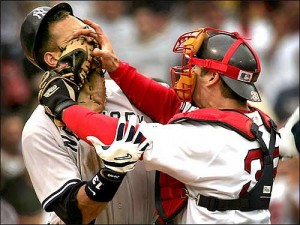 With the signing of Kelly Shoppach, there seems to be no room at the inn for Jason Varitek, at least as a catcher. The New York Post is reporting that puppet GM Ben Cherington hopes "Tek will always be a part of the Red Sox in some way."
Cherington would not elaborate on private discussions with Varitek and his agent, Scott Boras, but said they are working to "figure out what's best for the Red Sox, and what's best for him." It has been long assumed that when Varitek is done playing he would join the Boston coaching staff.

John Henry added ""He should be a part of this organization for the rest of his life."
The Post article goes on to mention the iconic "glove facial" that Tek administered to A-Rod and the impact it seemed to have on the 2004 run. Then come the facts that a lot of Red Sox fans don't want to hear about:
The Red Sox won the Series again in '07 with another solid year from Varitek, but it would be his last. Since then, he has batted .218, including a .220 average last year while appearing in just 68 games.

More disturbing, the captain was not able to maintain cohesion in a clubhouse that disintegrated down the stretch, when the Red Sox blew a nine-game lead in the AL wild-card race and missed the playoffs by one game — the biggest September collapse in baseball history.
As much as I appreciate everything Tek did in his time here, the past several seasons looked a lot like "the guy that hung around too long." Not only was he a huge liability at the plate (admit it, you cringed when he stepped into the batter's box with one and and a runner on first, or worse, two outs and bases loaded) but he was no better behind the plate, ranking among the worst in throwing runners out.
I think his responsibility for the September collapse has been vastly ignored. Where was the great respect his team is supposed to have for him if his battery-mates were inhaling fried chicken and cold beer? Did he even try to right the ship? Doesn't sound like it:
Red Sox team captain Jason Varitek, speaking for the first time since the team's collapse and subsequent turmoil, said this afternoon that reports of friction within the clubhouse were "grossly exaggerated."

A question about whether pitchers Josh Beckett, John Lackey and Jon Lester were drinking in the clubhouse had Varitek shaking his head.

"It's normal that guys would be in the clubhouse. People go back and forth. The perception that there's rampant drinking going on is frankly just [expletive]," he said. The magnitude of those things are minute in the big picture of an entire season.
Thanks for everything, especially 2004, but I'm not sure I want that type of "leadership" on the coaching staff.