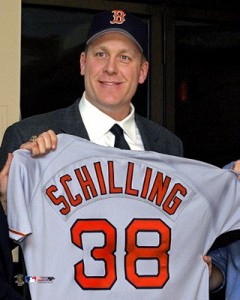 In November of 2003, shortly after another patented devastating playoff loss (one that played a big part in launching this very web site), Theo Epstein made a pilgrimage to Arizona that helped to change the history of the team. The trip put Theo on the doorstep of Curt Schilling, who ended up agreeing to be traded to the Red Sox. The move helped break an 86-year championship drought, ultimately bring two World Series crowns to Boston.
Last year over Thanksgiving weekend, the Sox were in the process of finalizing a trade to bring Adrian Gonzalez to Fenway. While the first year didn't garner a championship, the Sox have a first-baseman (who happens to be a potential MVP and batting champ candidate) locked up for the foreseeable future.
In 2011, the needs of the Red Sox are many. The loss of Jonathan Papelbon leaves a gaping hole in an already-weak bullpen. The team has just three legitimate starting pitchers, no right fielder, and no DH. Oh, and no manager.
Will history repeat itself and give Red Sox fans a reason to be thankful this weekend?