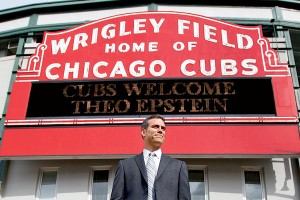 And the carnival atmosphere at Fenway Park continues.  Last month, we were treated to a Bob Hohler story in the Globe from anonymous sources who were "individuals familiar with the Sox operation at all levels." That information included Tito's personal struggle with his failing marriage, and alleged that Bigelow Tea wasn't his only addiction. It was all pretty textbook treatment for any big name leaving the Red Sox. 
The Sports Hub is reporting that the Boy Genius himself, Theo Epstein, is responsible for leaking the information to the Globe. Is this based on any reality, or is it just the beginning of Theo's going away party from the Sox? Something we all knew was coming.
There is a Keyser Soze-like puppetmaster in the Red Sox organization somewhere orchestrating all of this. But who?