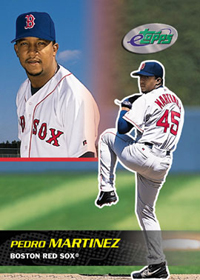 With all due respect to Justin Verlander — and seriously, I'm happy for the guy — seeing him win the AL MVP yesterday made me even angrier about 1999.
That was the year of Pedro. The year the pencil-thin guy from Boston dominated all other pitchers in the AL with 23 wins, a 2.07 ERA, 313 strike outs and a 0.737 WHIP.
In 1999, we'd been to the playoffs four times since the 86 World Series, but only had one win to show for it, getting ousted in the first round every time. We were hungry. We were due. Pedro seemed to be our ticket in. He was like a strange visitor from another planet who came to earth (or in this case, Boston) with powers and abilities far beyond those of mortal men. He was loud, proud and virtually unhittable when he took the mound. And he gave us some much-needed swagger at a time when the Yankees were routinely eating our lunch and rolling to the postseason. Every Pedro start was like a holy day of obligation in my house; you sat down, kept your mouth shut, and watched the miracle taking place right before you, then you were damn thankful you witnessed it in your lifetime.
The world got to take notice of his brilliance on two memorable occasions that year. The first was the 1999 All-Star Game at Fenway, in which Pedey struck out five of the six batters he faced, including Mark McGwire and Sammy Sosa, who, as you recall, were in the middle of saving baseball. And he didn't just strike those five batters out, he made 'em look silly for even taking bat in hand and ambling to the plate in the first place. Four of them struck out swinging and very likely spent a few hours that night re-considering their vocation.
The second was game five of the ALDS. In those days, the salad days, he was the angel of death. And on that October night, with a packed house in Cleveland going apeshit and tasting Red Sox blood, the bullpen door swung open in the third inning, a slight figure ambled out of it, and an eerie silence descended. Because Pedro was coming into the game. And that was like flipping a switch. Before Pedro, the Injuns had seven hits, three homers and eight runs. After Pedro, they had zero hits and eight strikeouts as their will to live was no doubt slowly sucked from their skulls.
It's also worth noting that while the ALCS against the Yankees was a complete and utter shit circus, Pedro did give us our only reason to cheer when he shut down New York in game three vs. Roger Clemens.
Throughout that storied year, we knew there was no one more valuable to our team than Pedro Martinez. Looking at our team's ebb and flow throughout that year, we also reasoned that there was no other player in the league who was more valuable to his team than Doc Martinez. Take him away and we likely don't make it out of Cleveland (assuming we make the postseason at all). But with him, we at least had the chance to scream and toss beers and rage against the Yankees in October, something our forefathers promised us in the Constitution. Even as we sifted through the wreckage of the ALCS, we figured we'd find some solace in a Cy Young and MVP trophy for Pedro.
Of course, we know how it ended, thanks to George King and Lavelle Neal, the two writers who kept Pedro off their MVP ballots claiming pitchers shouldn't be eligible.
I can only hope that yesterday, when Verlander's name was announced, that Pedro wrapped up a nice box of "screw you" and sent it off, Priority Mail, to the King and Neal offices.
I know I did.