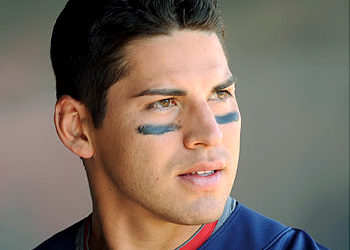 Jacoby Ellsbury finished a close second in the MVP balloting, losing 280-242 to Justin Verlander. Ellsbury was the Red Sox best player from April through September. Check out his stats:
Ellsbury became the first player in Red Sox history to hit at least 30 homers and drive in at least 30 bases in the same season. Remarkably, even though he hit leadoff, he also managed to clear the benchmark of 100 RBI in one of the great offensive seasons in Red Sox (and even baseball) history.

Ellsbury finished the season hitting .321 with a .376 OBP, .552 slugging mark, .928 OPS, 32 homers, 39 steals (in 54 attempts) and 105 RBI. He led the American League with 83 extra-base hits and 364 total bases. Ellsbury delivered middle-of-the-order production while continuing to deliver his top-of-the-lineup impact on the bases.

Perhaps as significant, Ellsbury also played a career-high 158 games, or 140 more contests than he played in the previous season. Moreover, he played his best baseball down the stretch, singlehandedly trying to prop up the Sox as their season was getting derailed. As most of his teammates struggled, Ellbury was transcendent, hitting .358 with a .400 OBP, .667 slugging mark and 1.067 OPS along with eight homers and 21 RBI in the last month of the year.
If not for Verlander's historic season (comparable to Roger Clemens' 1986 effort), Ellsbury would have taken the award. Although I do have to wonder if the team had not crapped out in September and ended up in the post-season, if voting would have gone differently?