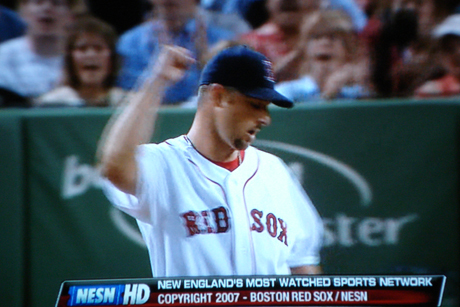 Anyone who wastes their precious time on this here blog knows I love me some Tim Wakefield. Need a go-to guy to eat up pointless innings, class up a clubhouse, chaperone the high school dance or marry your daughter? Wake's your man. A journeyman non-complainer and bona fide nice guy who visits sick kids at the Jimmy Fund clinic because it's the right thing to do when you're a millionaire ballplayer, not because the cameras are following you that day.
But hearing his agent toss minor threats like "better sign him now, or he'll go win 15 games somewhere else" just rubs me wrong. Partly because he fails to mention that those fifteen wins will come over the span of four years, but mostly because it's just so anti-Wake.
I know it's all just jockeying for position and agentspeak and whatnot. But here's how it should all go down, in my humble opinion: The Sox, recognizing the treasure that is Wake and the goodwill he shoots like laserbeams throughout the organization, offer up a one-year deal for short money. Wake, realizing that he's already sitting on piles of cash and that he and future generations of Wakefields are financially set for life (at least until the Chinese land nuclear subs on Boston Harbor to collect their rent), agrees to stick around, going against his agent's wishes.
If he goes down in flames, hey, it's just the final act on The Wakefield "Spread a Little Sunshine" Farewell Tour. If he surprises, it sets up another similar deal in 2013 for a little less green. The guy finishes his career with the Red Sox. And after he throws his final pitch, rainbows wrap around Fenway Park, the Mayor announces "Free Beer Day," Godzilla and Mothra finally make peace and the fans storm the field to hoist Wakey on their shoulders and carry him off into the twilight. Then he moves on to a distinguished career as NESN commentator and spokesman for relaxed-fit Dockers.
If he pulls a "your offer insults me," well… then it's time to move on. Doesn't dirty up his place in our hearts. Nor does it mean we've seen the last of him. Sure, it was weird to see Dewey Evans in a Baltimore jersey back in 1991. But now the guy gets trotted out so much at Fenway, I started to suspect that he'd taken a gig parking players' cars or hawking programs.
I've got my fingers crossed for the former, not the latter. But either way, to paraphrase the great Mike Damone, my toes will still be tappin'.