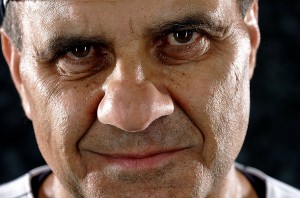 How much fun can we have until the Sox finally find someone to run the show next season? Here are five names that I know are NOT in the running, but what if they were?
Joe Torre: Everyone (most painfully Red Sox fans) knows that Torre led the Yankees to six AL Pennants and four World Series Championships. In his 12 years he compiled a .605 winning percentage. But in his other 17 years as a big league manager, Torre averaged a sub-500 winning percentage. Great manager, or manager of a great team when he was with the stacked Yanks? I believe the latter.
Ozzie Guillen: In his eight years with the White Sox, Guillen was 678-617 (.524 winning percentage) and led them to a World Series victory in 2005, the same year he was voted Manager of the Year. He remains more famous for his fiery attitude and controversial comments. He's on the record as calling Jay Mariotti "a fag" and calling white people lazy. I'm not sure how well he would fare in Boston, but it might be fun.
Jason Varitek: Yes, I have heard fans calling sports radio asking if this is a possibility. Let's see, no managing experience at any level, and not much of a leader while wearing the "C" on his chest. I'd rather see Jason Bateman manage the team.
Joe Maddon: Maddon has been impressive in his tenure with the Rays. He's taken his low budget teams into the playoffs three of the last four seasons and to the World Series once. That's pretty damn good in a division with two of the highest payroll teams, the Sox and the Yanks. Maddon seems like a hot shit too, with his "Uncle Junior" specs, Johnny Cash-themed travel outfits and other gimmicks. I'd take him.
Terry Francona: The guy managed the Red Sox to two World Series Championships, and was unceremoniously sent packing after most of his team quit on him in September. So, yeah, I'd take him back. A Francona 2.0 who traded in his Bigelow for a flask of Jack Daniels and kicks ass instead of playing cribbage. Or the old Tito, I'd take him too.
Again, I know none of these guys are shipping up to Boston. But play along, who would you pick out of this cast of characters?