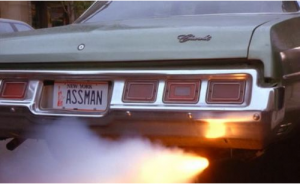 Jon Lester is the latest in the line of those speaking up about the Red Sox collapse. And like everyone else, he ends up looking like a total jerk-off. Things we learned about Mr. Lester…
He prefers Popeye's Chicken over KFC:
"We probably ordered chicken from Popeye's like once a month."
Excellent update. And, he is now the spokesman for fellow-beer-drinkers Lackey and Beckett:
During a lengthy interview, Lester said he did not have permission to speak on behalf of Josh Beckett, John Lackey or the other starters, but felt he had to.

"Consider us a unit when it comes to these accusations," he said. "We either fall together or rise above it all together whether they like it or not."
Interesting, can't wait for the sequel where the other two actually grow a pair and speak for themselves.
Now for the most revealing and personal tidbit: Lester is an ass man:
"I'm a grown-ass man. I made my decisions."
I had him for more of a boob guy.