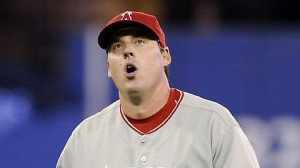 As Red mentioned yesterday, we finally received some good news out of Camp Fenway: John Lackey will miss the entire 2012 season. This is as brilliant a move for the future as it is disturbing based on the end of the season.
If you recall, The Gammons issued a mid-season report indicating that The Lack might need Tommy John surgery:
During a radio interview yesterday Peter Gammons speculated about whether John Lackey's struggles and elbow problems could lead to his needing Tommy John surgery, but then last night Lackey tossed 7.2 innings of two-run ball against the Phillies and denied the need for surgery.

Lackey told reporters that Gammons "straight made that up" and then asked them, "What did it look like tonight?"
Tito also refuted the report, then Lackey went out and pitched the rest of the season eerily like a guy who does need surgery. However, as late as, oh, the last game of the season, Lackey was good to go in either a one-game playoff or to start game one of the Divisional Series. Which makes me wonder – did they know he needed surgery all along and kept trotting him out there every five days as the season circled the drain?
Looking ahead, though, this is a great move. First, it removes the media frenzy that will try to dig up the "September Swoon" story on the day pitchers and catchers report in the spring. Lackey has not commented, and as you can see by his quote above, anything he had to say would just open more wounds.
More important is the clause in his contract stating that if he misses a season to a pre-existing condition, the Sox get him for a sixth year at the league minimum (currently just over $414,000). Granted they have to pay him next year, but they do it without the PR nightmare or the crappy performance. When Lackey returns in 2013, he will have a much more trade-able three years at 31 million instead of the three years at 46 million they would have been facing in 2012.
Perhaps the best thing for SG Nation is not having to listen to me rail on him for an entire season?