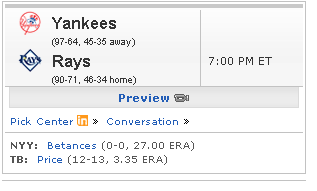 Even if the Red Sox manage to pull out a win tonight against those pesky Orioles, playoff hopes will ultimately land squarely on the shoulders of John Lackey in a one-game play-in tomorrow. Is there anybody out there that thinks Dellin Betances (2/3 of an inning 27.00 ERA major league experience) has a shot in hell at out-dueling David Price and the Rays? I don't.
If it comes down to tomorrow, I would rather see Wake for three or four innings, followed by everyone in the bullpen to get through the rest. Lackey could have the team in a 5-run hole by the fourth, and I'm not sure Tito would pull him even then. At this point, I'm not convinced we even get that far with Lester pitching on short rest and the bats unable to put back-to-back decent games together.
As always, I'll be rooting my ass off, screaming at the TV and doing alternating shots of tequila and Maalox. But I'm not feeling a good outcome. To my drinking or the game.