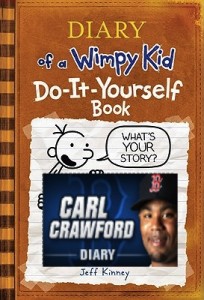 Another night, another swift kick to the jewels. I can't even comment on what took place last night, so I will just skip ahead to sending the Commander positive vibes for win number 14 and hope he gets something started and maybe wreaks a little havoc at the same time. Meanwhile, in his spare time not spent counting his millions and sucking on the field, Carl Crawford has been keeping a diary. Let's check in and see how he's doing:
Now that I am in a Red Sox uniform, I definitely hear the boos when I go back to Tampa, like our recent trip we made there. When I was in left field, I definitely heard heckling there. It was a bunch of haters in left field, pretty much. Hey, it's cool. I understand. The thing is, they've got to realize they've got to deal with me for another six years. I struggled this year and I'll give them this year. But I am definitely, definitely going to remember all that has happened. When I'm trying to work out and get better in the offseason, those haters will be on my mind. Just know they have another six years to deal with me.
And Red Sox Nation, just know we have another six years to deal with him.
As far as my game is going, I'm just trying to grind it out the rest of the season. I've felt a little bit better, but it just doesn't feel the same as I normally feel. I'm trying to do everything I can to do something positive whenever I get a chance to.
"Grind out the rest of the season?" What the hell does that even mean? The most positive thing he's done is sit on the bench. But let's get to the good stuff…
I want to end the diary saying something to the fans of Boston. I just want to say I'm sorry for the year I've had. You guys have been really supportive and I appreciate that. Hopefully when we get into these playoffs, I can be the real Carl Crawford that I know I am. We'll see.
Ahh, those words fill me with confidence! Carl was 1-for-4 with a strike out in his triumphant return from the devastating neck injury.
Help us Commander. Please.