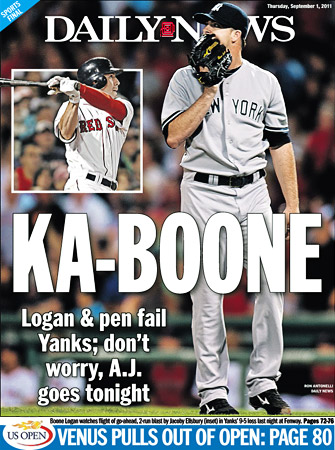 Just a few seconds before heading out to the office but wanted to thank everyone who turned out last night for our Jimmy Fund Telethon fundraiser. It was a great chance for us to meet some of the folks who read our madness everyday, as well as some fellow bloggers whose work we've always admired. Beers were quaffed, the Sox were cheered, shirts were given away and, most importantly, funds were raised. Merci.
The evening was made better by the Sox bouncing back from Tuesday's defeat to once again stick it to the Yankees, raising more questions about everyone in their rotation whose name pronounced in Spanish does not translate to "Yes Yes." Beckett got to shut 'em down without anyone having a baseball wedged in their colon, Paps got to do the retaliatory fist-pump, and Ortiz, Tek and Ells went yard.
And to cap it all off, we get AJ Burnett on the hill tonight for New York? Damn, it feels good to be a Red Sox gangsta.