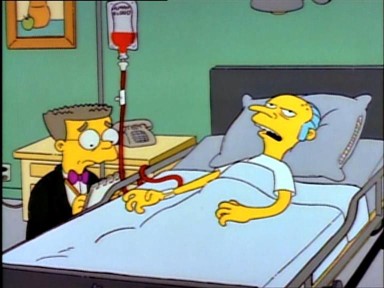 Think this one's gonna break me? You're wrong.
I've lived through Bill Buckner. And Dave Stewart shutting us down. And Roger Clemens threatening Terry Cooney. And 1992's last place finish. And "Leading off for the Sox in the 1995 ALDS, Dwayne Hosey!" And Jaret Wright. And Kent Mercer. And David Wells in a Yankees uniform. And Aaron Boone. And David Wells in a Red Sox uniform. And the Chicago beatdown of 2005. And being a few plays away from making back-to-back World Series in 2008.
So this latest breakdown? This collapse of Jerry Bruckheimer proportions? This mind-boggling implosion of one of the best team ever assembled on paper?
Yeah, it hurts. It always hurts. But it's like making out with a chick with German measles. I've had my shots, baby. And I'm immune to it all.
If anything, it's just a textbook example of how, as a Red Sox fan, I'll always get sucked back in. Even as September became Shitember, I was convinced. Figured they'd hit a bump in the road. That they'd eventually right the ship. That they'd make it to October and tear things up.
And I really, really wanted to see it happen. Because I wanted Carl Crawford to salvage a brutal first season in Boston by transforming into our own Post-Season Captain America. And I envisioned Mike Aviles becoming a playoffs cult hero on par with Mark Bellhorn. And I'm man enough to admit I thought John Lackey might just become an 800-pound gorilla in the ALDS and ALCS, going through opposing batters like a hot knife through butter and finally looking like he's rather happy to be here. Ellsbury and Scutaro as co-MVPs of the 2011 World Series? I was ready to take that to the bank, brother.
In the end, however, we tripped over our own asses. Got burned by the flames of expectations. Out of the gate, we were The Chosen Ones. To the point that the Sox-Phillies World Series Commemorative brochures were ready to print on Opening Day. But when the chips were down, when we needed to pull a couple of wins out of our collective asses, our billion dollar boys couldn't take a series from one of the worst teams in baseball.
You can rage against the Theo-Tito machine all you want, or throw baseball equipment, but this one's squarely on the players. During this month's wretched, record-setting 7-20 stretch, the bad plays and mental mistakes were flying so fast and furious, I almost expected to find a grizzled Walter Matthau in the the Sox dugout, shaking his head and pulling from a can of Schlitz.
So, yes. I'm upset. But mostly I'm upset because in the blink of an eye, the Red Sox' season ended. No game tonight or tomorrow or next week. And I wasn't quite ready to say goodbye.
So the bitter taste will remain for a few weeks. Maybe a month. Then, right around the time December ends, we'll get Spring Training Fever. Because that's what we do.
If there's anything positive to be gleaned from all of this, it's that in 2003, we never felt lower. Then, the very next season, the unthinkable happened. So we got that going for us.
I already can't wait.