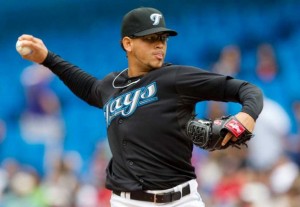 A kid barely old enough to buy himself a beer stateside shut down the Boston Red Sox. Henderson Alvarez vs. Josh Beckett looked like a total mismatch on paper. But the Commander headed for the showers early, coming up lame after a pitch in the fourth:
Beckett slipped and fell while warming up in the bullpen, but didn't think that had anything to do with the pain that forced him out.

"I felt it on the second to last pitch and then it felt a little bit different on the last pitch I threw," he said. "I didn't feel it till those last two pitches.

"It felt like it was locked up and then it popped in and out of the socket or something," Beckett added.
Alvarez went six innings, striking out four and giving up just four hits. After that, it became a battle of the bullpens. Each team used four pitchers after their starter exited, and it was Shawn Camp getting the win and Dan Wheeler taking it on the chin. He gave up an absolute bomb to Brett Lawrie in the eleventh to end it.
Other than "Ted Nugent reunion tour kicks off at Fenway," "Beckett sprains ankle" is about the worst baseball-related headline I can conceive with less than a month left before the playoffs. Clearly the grounds crew played a part in this. There is no doubt in my alcohol-and-red-meat-fueled brain that they have been studying films of Beckett and somehow loosened the spot on the mound where Beckett pushes off during his wind-up. If only they'd used their genius for good instead of evil. Not that it mattered since the offense apparently decided Labor Day was a real holiday and scored exactly zero runs.
Meanwhile, the Yankees held off the O's 12-11 and pushed their lead in the AL East to two-and-a-half games. I blame Lackey.