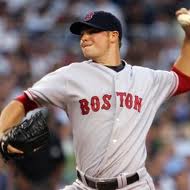 Remember that old Bugs Bunny cartoon where he played every position? First base: Bugs Bunny, Second base: Bugs Bunny…and so on? That's sort of what the Red Sox pitching rotation is going to look like pretty soon, except it will be Jon Lester instead of Bugs Bunny.
This is what the casualty list now looks like for Red Sox starters:
Daisuke Matsuzaka – out for the season
Clay Buchholz – most likely out for the seaon
Erik Bedard – will miss at least one start
John Lackey – sucks
Josh Beckett – ankle injury, severity unknown
So other than Wakefield's never-ending quest for his 200th win, get used to seeing a lot of Jon Lester. Starting tonight.