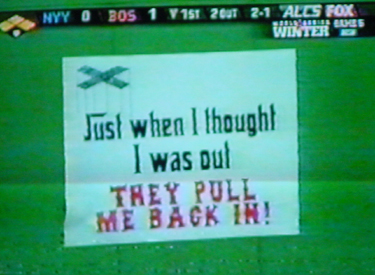 It's too bad we've only got one Jacoby Ellsbury. Because if we had two or possibly three of him, we may have already sealed up the East by now. Yesterday, Ells was like a man possessed, trying to single-handedly carry us into October. Across two games he had five hits, three of them home runs, and drove in five of the nine runs we scored in the double-header. None more dramatic than his three-run bash in the fourteenth inning of the night-cap, which helped us maintain a slender one-game lead in the wild card.
So, why can't we have more than one Ellsbury? Christ, if Tom Werner could funnel even a fraction of his Cosby Show money to some shady division of MIT, I'm sure we can get us a couple decent clones (or at the very least, convincing androids) to keep these good vibes rolling into October.
Anyway, last night's win at least put us in control of our own destiny. Although the Yankees seemed to have something to do with it, too. I'm still not sure why New York sent Austin "I'm not Kevin" Romine to the plate in the bottom of the ninth with the bases loaded, when they had Jeets and A-Rod on the bench and one hit would have snuffed us out–literally and figuratively. Do they know something we don't? Do they want to play us in the ALCS? Was Bud "I'm all about the ratings" Selig pulling the strings from his secret base on the moon?
Too much to wrap my brain around this morning. All I know is that if last night's game doesn't fire up the Sox to tear through the Orioles and roll into the postseason, then nothing will.