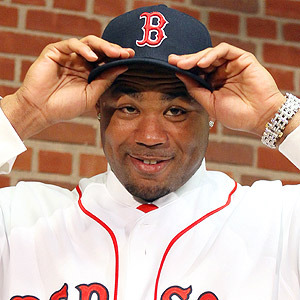 Within a 5-minute span, the Red Sox coughed up their 3-2 lead and lost the game and the Rays hit a twelfth-inning home-run to win 8-7, ending the season for the Red Sox. After Bard pitched a strong eighth, Papelbon came in and struck out the first two batters in the ninth, then gave up back-to-back doubles to tie the game. Sox-killer Robert Andino singled in the winning run as Carl Crawford dropped what should have been the third out.
In Tampa, Dan Johnson hit a two-out pinch-hit home run to complete the comeback from being down 7-0. In the bottom of the twelfth, Evan Longoria hit a walk-off home-run just moments after the ball bounced out of Crawford's glove.
In one city a team of heroes, but for the Red Sox, a painfully fitting end to their season.
Lots more to come from Red and I, but first, I will finish drinking myself into a deep slumber blackout.