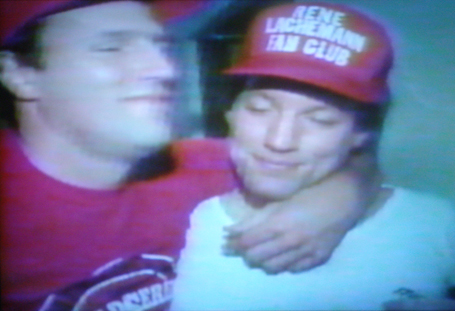 I still remember the night the ball went through Buckner's legs.
Just a few minutes earlier, I was jumping around like a smacked ass. Waving a towel. Or a shirt (hopefully my own). Pumping my fist in the air. Shouting out loud, "We are actually going to win the World Series."
Then everything that could go wrong went wrong. And before game seven even happened, we knew how game seven was going down. I spent a solid hour after the final out lying in a crumpled heap on the floor, thinking, "so this is what dad and gramps were warning me about."
After that, I led the life of secret shame. Shameful because even though I desperately wanted to see the Red Sox reach the playoffs, I knew that by getting there, they'd only kick me even harder in the balls. And did they ever. In their next few postseason appearances — in 1998, 1990 and 1995 — the Sox won approximately zero games. Which is like the hottest girl in class inviting you over to her place while her parents are away, then asking if you'd help her move some furniture.
Things changed in 1999, the year Pedro Martinez floated out of the bullpen in Cleveland and smothered the Indians in game five of the ALDS. But little more than a week later, the Yankees sent us packing from the ALCS. And normalcy was swiftly restored.
Then, just when 2003 pushed me a little closer to the therapist's couch, 2004 happened. And I got to see the one thing I was groomed to believe I'd never see in my lifetime. Then, f#$k all, I saw it again in 2007. And in 2008, we came one game away from going back to the World Series for the third time in five seasons.
I guess the point of all this rambling is that the last decade, in sharp contrast to the Sox teams of the 80s and 90s that I grew up with, has been an embarrassment of riches. To the point where I can no longer say, "Please don't make it to the postseason and prolong our agony." Now I know that anything can happen. And if there's a chance to squeeze a few more Red Sox games out of the season, to bank against that cold expanse of a baseball-free New England winter, I say bring it on. Ghosts of Kent Mercer and Pete Schourek be damned!
Yes, living pitch by pitch, inning by inning, will eventually take its toll; if my October bills for Maalox and whiskey don't bankrupt me, my ulcer will surely take me out. But in 2004 I learned that all that anxiety and pacing and shouting and waving that goddam shirt doesn't have to be vain. So we gotta do it. We gotta do it.
Lester on short rest against a third-rate team that desperately wants to break us? Bring it on. A one-game, do-or-go-home playoff against the hated Rays? Sign me up for that shit. Yet another post-season rumble with the Yankees? Man, I hope so.
Opening day 2012's a long way away. Let's enjoy as much of this as we can, while we can.
Go Sox.