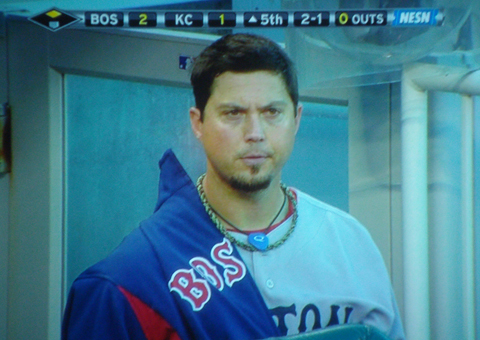 So we've lost two series in a row and are 1-3 in September. As James Caan's boss in "Elf" yelled, "That doesn't happen!" And if there's anyone you want on the mound when you need a quick reversal of fortunes, it's Josh Beckett. AKA Commander Kick Ass of the F$%k Yeah Brigade. AKA The Flash Mob of Fists. Which we just came up with over steak, eggs and Red Bull.
Unlike Denton and perhaps the rest of Red Sox Nation, I'm willing to give Lackey the mulligan for yesterday's game. The Rangers have one of the toughest line-ups in the game and Lackey's no doubt still struggling with personal matters. But the Blue Jays? On paper, we shouldn't even have to play these games. We should just pull the ol' team bus up to the gates of the Rogers Centre, step out with a bullhorn and shout, "We've got Gonzo, Ells and Pedroia. You've got Teahen and McCoy." And that should be enough right there. Put us down for four Ws and just spare everyone the trouble.
Sadly, that's not how it works. We gotta play the games. And Beckett has been more Clark Kent than Superman against the Jays, with a 6.57 ERA. And over his last 6 starts in Toronto, he's 1-2 with a 9.28 ERA. But when the chips are down, this is the guy I want holding the nuclear launch sequence codes. Think the Commander's gonna let some team from Canada keep him down on a national US holiday? Screw that. We're not just fighting for the East here, we're fighting for America. I won't be happy until the Jays are running scared, looking for accommodations in some sweaty Brisbane hotels.
Join us at 1:07pm. Bring your flag and Hulkamania shirt.